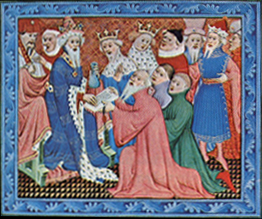 In the year 1295, Marco Polo (He's the guy in the green, pictured above, with his father and brother, accepting letters from the Pope for delivery to the Khan) returned to Venice, bringing trinkets, treasure, and technology acquired on his travels in Cathay. Among the goods: his handwritten notes published three years hence in his European best seller, Description of the World. Also reportedly among the wares, yet another exotic import, destined for major impact on the Italian imagination and beyond: spaghetti. Ah! Such is the stuff of which a Renaissance is made.***

If you find that the New World Renaissance Band has you singing in Italian; or, if you are simply experiencing a craving for a relaxed evening dinner amid the gentle sounds of Venetian lute song, here's a culinary pursuit to compliment your mood:

Spaghetti Blanca


INGREDIENTS:
1 pound spaghetti, cooked al dente
1 large eggplant
1 can vegetable stock
1 large vidalia onion, chopped (or 1 large cooking onion with 1 shallot)
4 cloves garlic, chopped
1/4 cup olive oil + 1/8 cup of extra virgin olive oil to be added after cooking
2 serrano chilies, chopped, 1 with seeds, 1 without
1-1/2 tsp. dried oregano
1 cup heavy cream
1/2 cup grated Romano cheese
juice of 1/2 lemon
6 leaves fresh basil, chopped
2 tsp. salt
1/2 tsp. ground black pepper
grated parmesan

-------
Fry eggplant in pan at medium heat, turning frequently, for 15 minutes, charring all sides.
Allow eggplant to cool.
Remove eggplant skin and stem.
Set eggplant pulp aside.
Heat oil to medium heat in large sauce pan.
Saute onion until soft (about 5 min.).
Add garlic and chilies. Saute for about 1 additional minute.
Add oregano and vegetable stock.
Bring to boil and simmer for about 30 min.
Add cream and eggplant and let simmer for about 3 min. while stirring occasionally.
Stir in cheese and lemon juice.
Add Salt and black pepper.
Remove from heat and process with hand-held blender or food processor until smooth.
Toss with 1 pound of cooked spaghetti adding extra virgin olive oil.
Add grated parmesan, garnish with chopped fresh basil.
Serves four.
-------
Don't hesitate to get creative with this basic recipe. Treat it like any spaghetti sauce.
Go ahead. Add fish or veal, chicken, lamb, pork, beef (even sausage) and/or capers or chopped olives.


-----------------------------------------------

***Well... as with all great world events, there is controversy: In the year 1279, pre-dating the return of Marco Polo, a Genoese soldier listed, among the inventory of his estate, this entry: "una bariscella plena de macaronis," a basket of dried pasta, thus lobbing a serious monkey-wrench into the romantic, Marco Polo-pasta story.

In any event, if all this controversy happens to have given you an appetite,
here's another Nightwatch Recording approved, pasta pursuit (from the kitchen of the award winning Lady Paula):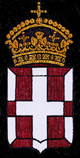 Duke of Genoa
Pesto Genovese
INGREDIENTS:
2 cups fresh basil leaves, tightly packed
1 tsp. salt
1/2 tsp. ground black pepper
4 cloves garlic, chopped
2 tbsp. toasted pine nuts
1/2 cup olive oil
1/4 cup parmesan cheese, grated
1/4 cup romano cheese, grated
1 pound linguine, cooked al dente
-------
Combine all ingredients in food processor and blend until smooth.
Add more olive oil if needed
Toss with hot pasta and serve.
---
Send Nightwatch Recording favorite recipes from your own Epicurean Pursuits
Return to Welcome Page / Directory&nbsp&nbsp&nbsp&nbsp&nbsp&nbsp Special Interest Directory
Epicurean Pursuits